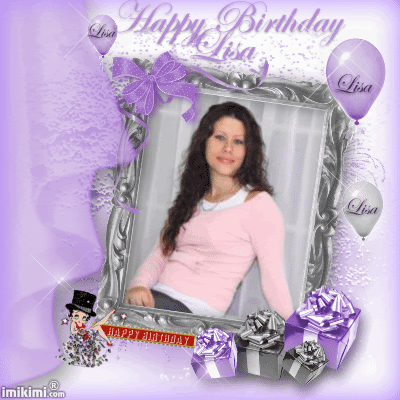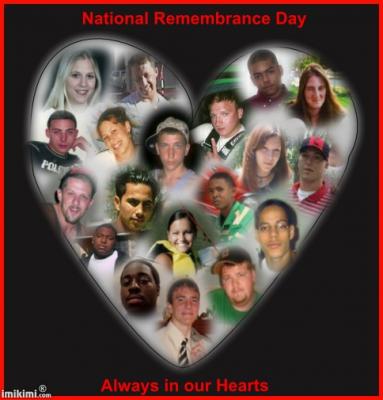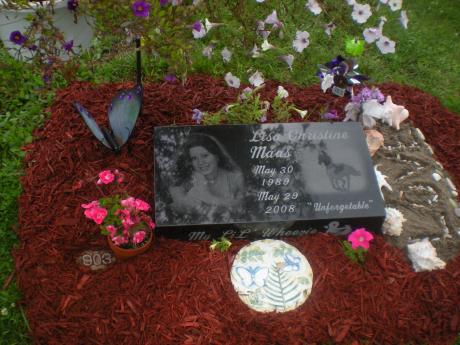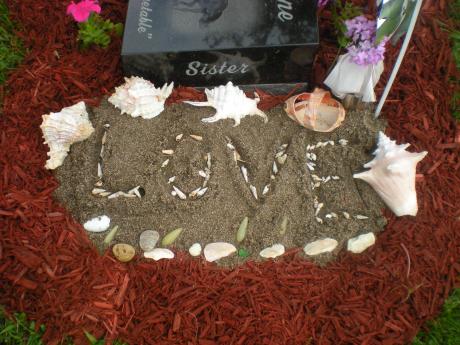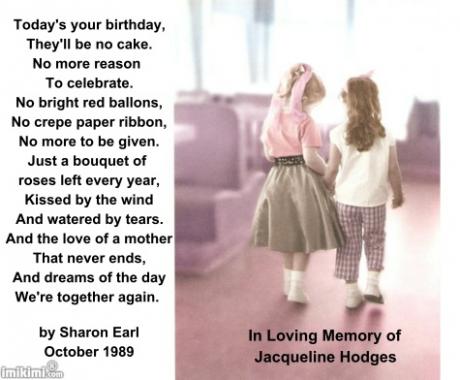 This poem was written by Jacqueline's mom Sharon and shared with us on Lisa's Birthday in memory of our two beautiful angels. Gramma June used to call Lisa "Jacqueline Schultz".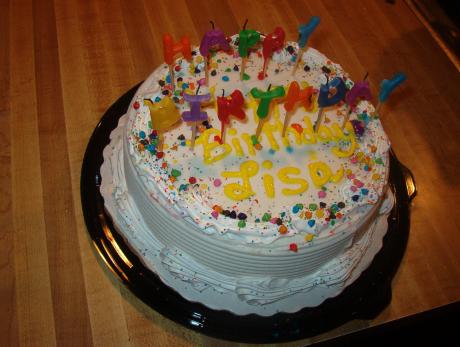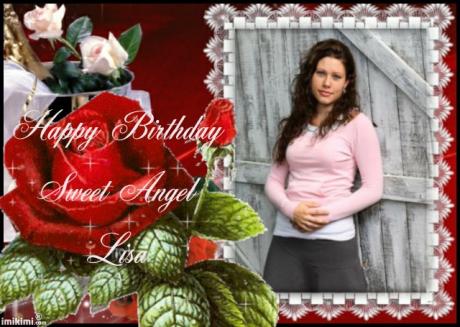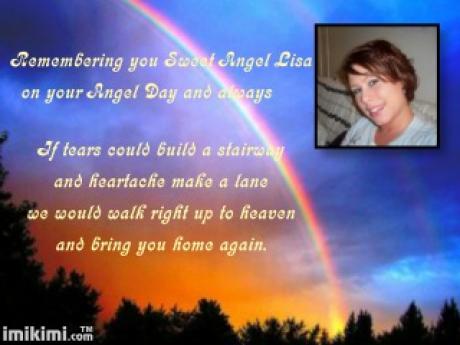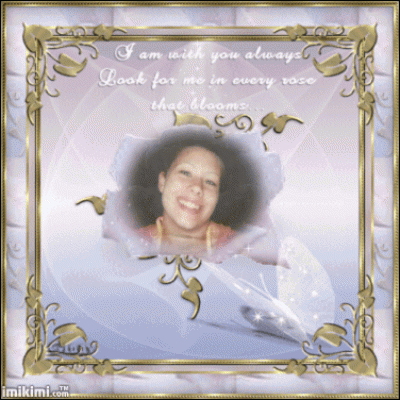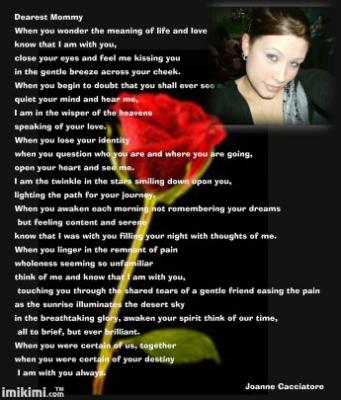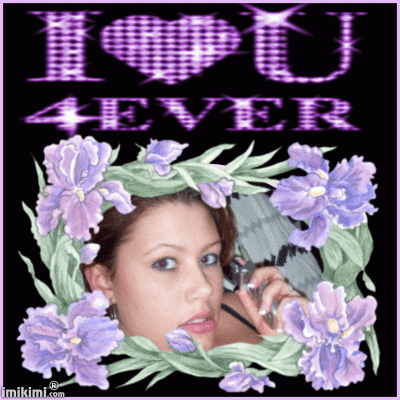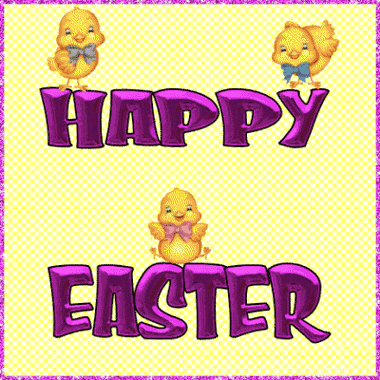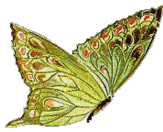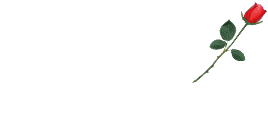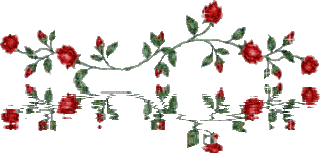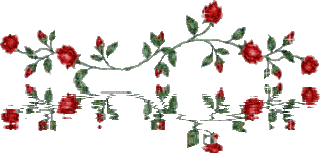 Lisa Christine Maas, 18, of Harborcreek, Pennsylvania, a student at the Pennsylvania Culinary Institute died on Thursday, May 29, 2008. Born on May 30, 1989, the daughter of Laura Ames Maas of Harborcreek and the late Melvin Maas, Lisa was a 2007 graduate of Harborcreek High School where she participated in softball and the Academic Sports League. She enjoyed trips to the beach, bowling, and riding roller coasters. Lisa was a wonderful daughter, a best friend to her sisters and a true friend to all. She is remembered for her kindness, generosity, friendship, compassion, loyalty, and sense of humor.

Family and friends feel blessed that Lisa, although she was with us for such a short time, touched so many by seeing the good in everyone and everything. Through her passionate spirit, she strived to overcome adversity and experience joy in her life.
Lisa Christine Maas was born May 30, 1989 and the world has never been the same and never will be. Lisa's love, smile and heart of gold are just a couple of so memorable traits Lisa shared with us. They will remain with us all Forever.
Lisa was so versatile and never one to let grass grow under feet. She was always headed to her next destination and perhaps that is why her time with us seems so limited. As a very young child she enjoyed swimming at the "Y" and the beach. She ice-skated for Westminster Figure Skating Club with her sisters. Her interests turned to bowling and softball and even ran cross country. Then to Academic Decathlon and writing Poetry. She loved camping with her family and riding rollercoasters. The Faster & the Higher the BETTER! She traveled the entire North East to satisfy her need to live life to its fullest.
First her dreams, as a youngster, were to be a Lawyer then a Physcologist to Chef to Hotel Restaurant Management. Even as she was attending Culinary School at PCI she spoke of returning to school when she was done--always eager to learn. She made my head dizzy contemplating where to do her externship--like a little kid in a candy store--South Carolina?Florida?Houston?Pittsburgh? She did not want to miss out on anything and gave them all deep consideration through many conversations we shared.
Her memories are fond and she shared many stories of fellow students, teachers and even how the Dean assisted her in getting a better job while attending school. She was so excited to work for Wyndham's and spoke of her experiences and co-workers often. She wanted to be independent in a big city knowing she was capable to do it on her own. Like so many young people today Lisa had struggles and faced adversity--she lost her father at an early age-- but always met it head on and overcoming it knowing it would only make her stronger. It is her strength and loving memories that will help guide us through these difficult times.
She will so sadly and dearly missed and kept in our hearts forever. If anyone would like to contact our family and share anything at all about Lisa or would like to add their memories so we all may share them. Please feel free as there is not a moment that goes by that she is not in our thoughts and prayers.
Memorial contributions may be sent to: Crime Victim Center, 125 W. 18th Street, Erie, PA 16501.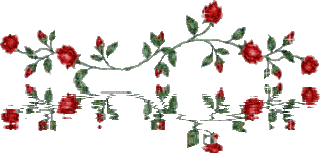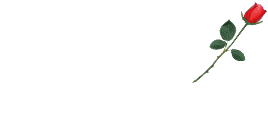 LISA'S REFLECTIONS ON LIFE

CREATIVE WRITING PORTFOLIO

JANUARY 25, 2006

"OUT, OUT BRIEF CANDLE, LIFE'S BUT A WALKING SHADOW...SHAKESPEARE

THE LITTLE PARTS OF YOUR LIFE SHINE, BUT ENVENTUALLY YOUR FIVE MINUTES IN THE SPOTLIGHT DIES OUT...

JANUARY 27, 2006

"MANY PEOPLE TRY TO TIPTOE THROUGH LIFE SO THAT THEY CAN ARRIVE AT DEATH SAFELY"

MANY PEOPLE TRY TO LIVE THEIR LIVES SO CAREFULLY WHEN IN THE END THE SAME THING HAPPENS ANYWAY. PEOPLE TEND TO WASTE THEIR LIVES AWAY BEING CAREFUL, WHEN THEY SHOULD BE LIVING THE MOST OF THEIR LIVES...
FEBRUARY 13, 2006

IF I HAD TO LEAVE AND NEVER RETURN I WOULD TAKE (3 THINGS) BECAUSE:

I WOULD TAKE SOMEONE I LOVE, A LOT OF SUPPLIES (MONEY, FOOD, CLOTHES, ETC.) AND A PHOTO ALBUM. I WOULD BECAUSE I WOULD WANT SOMEONE TO LOVE TO SPEND MY TIME WITH SO I WASN'T ALONE, SUPPLIES TO KEEP US ALIVE, AND A PHOTO ALBUM TO REMEMBER EVERYONE I LEFT BEHIND.


The following are more poems Lisa wrote in her 7th grade English Class at the age of 13.
Lisa wrote many poems including this one about the loss of her father. It was published in Spring 2002 Young Poets Speak Out Book.